Dyke breached near Edam
Dyke breached near Edam
At 22:43 today, and according to expectations, the test dyke on JDL Contracting's test field in Edam, near Purmerend was breached. The experiment with the first test dike was successful!
JLD Contracting BV, an affiliate of JLD International BV has been active in groundwork, roadwork, hydraulic engineering, pipeline construction and infrastructure engineering since 2014.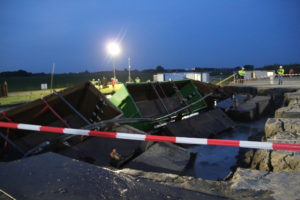 JLD Dyke Stabiliser
Together with its partners AnteaGroup, Wiertsema & Partners and Deltares, JLD is developing the JLD dyke stabiliser. This development is an innovative dyke-improvement technique whose purpose is to increase the inward stability (macro-stability) of dikes. This technique is executed and financed by Waterschap Rivierenland within the macro-stability POV, a project in the Dutch Flood Protection Programme (Dutch: Nederlandse Hoog Water Beschermingsprogramma – HWBP).
Simulate Dyke Breach
For these tests, JLD constructed a simulation dyke that was made to fail by means of the so-called container tests. These large containers were weighted down with steel and water and were measured and monitored around the clock during the past few days.
During this first experiment, the "green dyke" was made to fail. The "green dyke" was a test dike that had not been reinforced with JLD dyke stabilisers. The next experiment is to have the "blue dyke" fail. This "blue dike" has, indeed, been reinforced with JLD dyke stabilisers and the test will start on 6 July.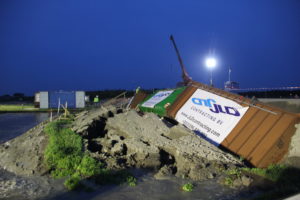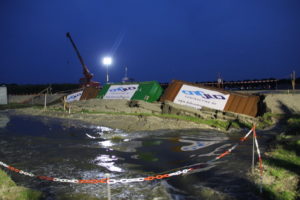 The test grounds were open last weekend in order to get a look at JLD's most recent innovations. These open days were very well attended and a huge success.
Want to know more about this innovation or to watch the experiments live on webcam? Check www.JLDdijkstabilisatie.nl